Maggie
De Wikidroids
Maggie, The balancing robot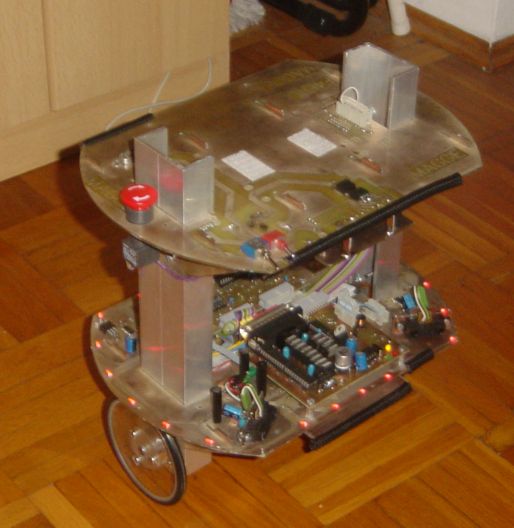 Documentation
Short Description
Maggie is a balancing robot, "segway type".
Maggie participated to the french eurobot qualification 2006, with juste added a few elements for managing the balls. See the story here.
Maggie is capable of passing over small obstacles, detecting avoiding bigger ones, using odometry localisation, carriying beer glasses, rolling overs swing, blinking in the dark ...
Maggie weights 2.8 kg and is 30 cm tall.
Her two brushless gearmotors give up to 3Nm of moment, and up to 1m/s speed.
A gyroscope gives an angle information which is used for maintaining the robot in balance.
The whole robot uses only one microcontroller (Atmel AVR), and a li-ion accu gives about 4 hours autonomy.
The chassis is particularly lightweight because a big part of it is made of PCB (FR4 material). See in the following picture how the elements of Maggie are onganized.
And last but not least, Maggie has an absolutely cool LED Belt! This is the most important feature of this robot.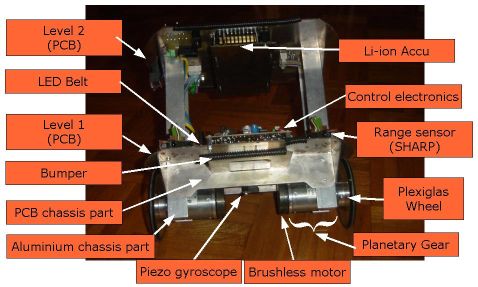 New : Video on youtube !!

Maggie's team : Les Maggiciens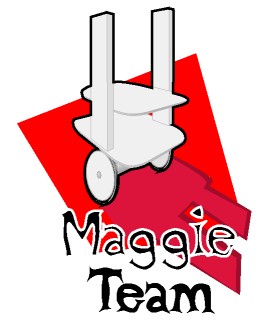 Christoph Riehl (Tof, Guerrier, Stoo, F4ERU) : Main creator
Michel Bourreau : Mechanics.
Mirko Todorovic : Support for PCB milling
Mickaël Lebaillif (demikl) : Led Belt programming and supporter
Olivier Blin (Blino) : Led Belt programming and supporter
Vincent Hiribarren (Mediv) : Led Belt programming, supporter, Tshirt responsible
Frédéric Lochon (Crazyfred) : Supporter, and sabotager
Christine Celka (Titine) : Supporter, in charge of the next generation of sabotagers
Credits
I would here by thank people who helped the maggie team:
Michel Bourreau for taking time on the mechanics, and making a real good job.
Christion Schneider, for allowing me to use the milling CNC.
The Eirbascotech Team for material help at eurobot, and for the entertainment.
The ESIAL team and JlG for the entertainment, and for the bus to eurobot.
The Phoenix Technologies team for helping me to participate to eurobot.
Olivier Matz and The Microb Team for their good result, their coffee, and Aversive
The eurobot team for eurobot, and Planète-Sciences for the french competition, and for the innovation price !